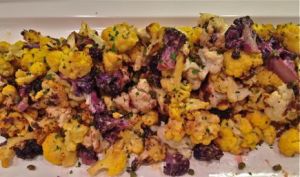 1 head each of Cheddar Cauliflower, Purple Cauliflower and White or Green             Cauliflower, broken down into bite size florets
Olive Oil
Salt and Pepper to taste
Vinaigrette:
½ cup white wine vinegar
2 teaspoon Dijon mustard
¾ cup extra virgin olive oil
2 teaspoon minced shallot
Salt and pepper to taste
2 cups Vegetable Oil
½ cup capers, rinsed and dried
Preheat oven to 425 degrees. Toss florets with olive oil, salt and pepper. Spread out on 2 sheet pans in a single layer. Roast for 20-30 minutes stirring occasionally or until cauliflower is nicely browned and fork tender.
While the cauliflower is cooking, make the vinaigrette: place the vinegar, mustard, shallot, olive oil, salt and pepper in a blender. Blend until smooth. Set aside.
Also, fry the capers. In a heavy bottomed pan, add the oil and heat over high heat until the oil reaches 350 degrees. Place a few capers at a time in the oil and fry until the petals unfold and the capers brown slightly. Remove and drain on paper towels. Repeat with remaining capers.
Remove from oven and immediately place cauliflower in a large bowl. Drizzle with ½ the vinaigrette, adding more to taste. (remaining vinaigrette will stay good in the freezer for 2 weeks). Add fried capers and serve immediately or at room temperature.
Serves 8.