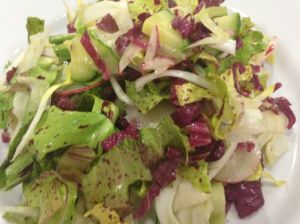 1/2 cup extra virgin olive oil
2 tablespoons agave syrup
3 tablespoons reduced apple cider from ½ cup
3 tablespoons apple cider vinegar
salt and pepper to taste
2 Fuyu Persimmons, peeled and sliced thin on a mandoline
8 cups winter chicories
½ cup crumbled blue cheese
½ cup candied pecans (recipe to follow)
Combine the reduced apple cider, apple cider vinegar, and the agave in a small bowl. Add the salt and pepper, then whisk in the olive oil.
Add 2 tablespoons vinagrette to the persimmon, toss gently to coat.
Just before serving add chicories, persimmons, ½ the blue cheese and ½ the pecans to a large bowl, toss with half the vinaigrette, adding more as needed to coat. Divide the salad among the plates. Distribute the remaining cheese and pecans as garnish and serve immediately.
Serves 8
Candied Pecans
½ cup granulated sugar
½ cup maple syrup
¼ t. salt
¼ cup water
1 cup pecans or walnuts, coarsely chopped
Preheat the oven to 275 degrees.
Bring all the ingredients to a boil, stirring just until the sugar melts. At the boiling point reduce the heat to low. Cook the nuts at a slow simmer for 30 minutes. Drain and discard the syrup.
Spread the nuts on a baking sheet lined with a silicon mat. Toast them in the oven until they are golden, about 25 minutes. Cool completely.